Volunteer with TransVisibility and move the vision forward
it seems the original set of volunteers got busy and are unable to fulfil their respective roles. I am now looking for volunteers to help move the TransVisibility.com vision of global unity and acceptance forward. Bloggers, Writers, assistant editors, and an executive editor positions are all available. So stop sitting on the sidelines and make a positive difference. Or if you are already involved in the community, we would love your help over at the TransVisibility Camp.
moderators are also being sought for http://www.TGender.com a 100% free transgender specific support, social networking and Dating website. Yes you read right, 100 % free. No charge for anything, including chat.
if you are interested, drop me a note via the contact page
H
Submitted by

Daphne_Shaed

on Fri, 05/04/2012 - 03:47
Body:
Last night at around midnight I was sitting in the Tillicum Silver City IMAX with Cage, Minmay, and Gregory about to watch to the Avengers Exclusive Premier. It was a good movie, with lots of humorous moments. I swooned a bit when Tony Stark (a.k.a. Robert Downey Jr. showed up looking all dashing and handsome). We discussed the agenda for our day while we waited for the movie to begin. After the movie, at around 2:30 am, Cage and I headed back to the car. We were very aware that at 5:30 am we would be getting ready to do the 60 minute trek to the hospital with Minmay and Gregory. I had a 7:30 am check in at the hospital.
Once we were home, and both of us having had long days (18hrs), we fell into bed and slept best we could for the next 3 hours. I remember numerous 'snooze' alarms before finally rolling out of bed and quickly getting dressed so as not to be late. We met Minmay and Gregory at the Starbucks on Douglas St. where my companion got a coffee and bagel for breakfast. I had not eaten for 8 hours, and I was hungry for some of the black (not Guinness, but coffee). Cage let me smell her coffee, it did not appease my caffeine appetites.
We dropped my car off at my place on our way riding in Gregory's jalopy on into Duncan to the hospital. We shot a short pre-check-in video for the documentary outside. We checked-in right at 7:30 am. Then we waited, and waited, and waited a little more, but not too terribly long, blazing fast in the temporal sense of hospital efficiency, although still somewhat mind-numbingly slow for me. Cage and I went into the check-in area when I was finally, but relatively efficaciously, escorted to a small curtain wrapped room, that seemed temporary while being simultaneously immutable.
The nurse came and asked me, "What are you here for?" I replied quickly, "Half a sex change." This ignited a lowering of the eyebrows, squinting eyes, and tighter lips in my inquisitor, along with a steady silence that seemed to pause all other activity in the periphery. I stood straight and stated flatly, " I am here to receive a bi-lateral orchiectomy." The nurse fell at ease and continued in propinquitous manner to exact the details of my medical history.
I wanted to at least have one last orgasm before surgery, but I was so tired and I thought masturbating in a hospital would probably be really inappropriate.
Cage sat with me, she held me, we talked, laughed, I talked, she comforted.I looked at my scrotum and thought, 'Well, off you go!" Cage left and Minmay came in. We talked, laughed, and talked some more about relationships. I was getting a lot of texts, email, and messages from lots of people, except for one person. Although I was not surprised by their silence, however, they did surprise me later, which was very nice and quite unexpected.
Minmay left and Cage came back, we just sat and held hands until the porter came to take me away. I had a sudden fright of being one of those people that goes for surgery and randomly dies on the operating table! I have never been for surgery, I did not know what to expect! Cage must have seen the look on my face when we were departing and peered into me at that moment and touched me somewhere inside, and suddenly everything was going to be fine, and it was.
There was however some tension between myself and the nursing staff that I was deliberately, and cautiously, concealing. I was being constantly misgendered. The staff were using my preferred name but dropping his' and hims' everywhere like little stings to my identity. I was so happy to be in a hospital getting a procedure done that I have been dreaming about since the first time I tied rope around my bits and tried to lynch my testicles for crimes against my preferred body morphology. Although, it has taken some time to get here, and for a long time I never thought I would ever make it. I mentioned my preferred name and pronouns, and that I am a transsexual on a few occasions and left it at that.
The anesthesiologist seemed to recognize me right away as a women, and his kind eyes and Scottish accent were somehow providing extra comfort. Every time he called me 'Miss,' I smiled and gazed at him, he was talking but I can not really remember what he said. My urologist also called me by my proper pronouns and name, and his nursing staff followed.
The walls in the operating theatre were green, like key lime pie! A soft gentle green, that at first was intrusive and unexpected, but became somehow familiar and guileless. There were stacks and stacks of equipment everywhere, some of it shiny, new, and costly, while other pieces looked antiquated, bulky, and awkward. The anesthesiologist stood beside me, smiled and tapped my forearm vessels to expose them. He punctured my skin and threaded the I suomenviagracialis.com.V., but it was not working, so he moved to the other arm. In five minutes I had little suction cups, cuffs, tape, bracelets, needles, lines, and tubes coming out, attached, or otherwise extending out of me to million dollar machines that made melodic little blippy sounds. I said out loud, '...that machine makes some neat noises.' The anesthesiologist told me, '...that is the sound of all your vitals my dear.' I thought, 'my vitals sound wonderful.'
The anesthesiologist stood over me and showed me a syringe and informed me that I would be slightly dizzy, would not dream, and will awake in another room as if no time had passed. As I became dizzy I muttered something, although I can not remember what! My mouth tastes like metal, I blinked and I was in another room! What was happening I thought? Did I just tele-port to another room, the doctor is going to be mad!
After all that prep work I just blink off into another room, no..., wait, what? Where am I? The nurse looked me in the eyes kindly, and slowly said "Smyrna has to wait in the other room until we are done here." Befuddled I tried to look at her, but my eyes kept falling to the floor, I heard myself say "Where is here? And where is Smyrna?" She lay me back in the bed and said "She will be here soon." I wanted to inquire again as to the whereabouts of this 'here' the nurse kept mentioning. I began frantically searching for my phone to look at Google maps when i suddenly realized my hands were extended at my side and not moving, and yet I still felt like I was reaching into the pockets of a jacket I was not wearing. Hmmm...I did not recall falling in a rabbit hole! I am Daphne, not Alice!
Finally I began to regain my senses and slowly work out everything. The nurse looked over and said, "You with us now?" I said "Sure. Now what." This was the wake up room. When I was finally able to string some words together in a coherent way I was moved into the pre and post op room, as before, but into a different curtained alcove.
A nurse came in and said, "Don't worry sweetie Smyrna is coming back now." She took my vitals and sure enough Cage came in just as I was trying to stand and get dressed. She took the gown off me and just then a nurse asked permission to enter. I said "Sure." She was got off guard when she came in through the drawn curtains to see Cage at my feet prompting me to raise my foot to get into my underwear, and the rest of me in my glorious nudity, stunning legs, round hips, penis, and b-cup breasts. Don't worry though, I know C.P.R..
A short while later I was released and we went grocery shopping and prescription filling, then home. We did a quick post-op for the documentary and then hugged tight good-byes. I went to my bed and lay down, and smiled so brightly, finally a great peace and quiet has come to my mind. This is a new feeling, I will have to get used to it, happily of course. I love this new feeling, it is more than I can explain in words, and more than I can relate to you in metaphor, and it is everything I imagined it would be.
Love Daphne Shaed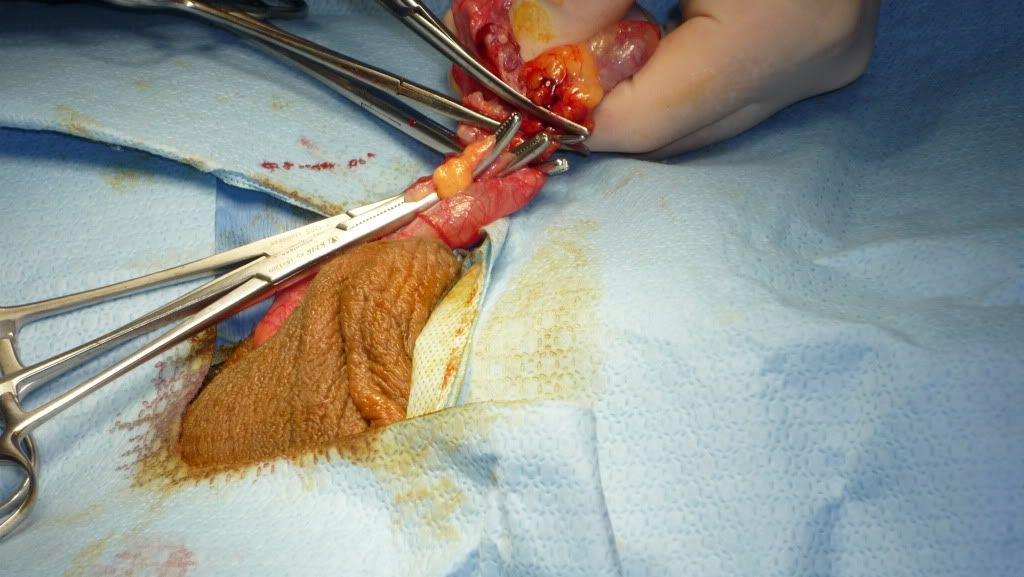 Day 1: post-op castration (Warning - pictures)